Such a nice way to start 2022…
It is our great pleasure to announce that the Inserm UMR 1229-RMeS lab has been renewed for the next 5 years as a pluri-team Inserm Université de Nantes, Université d'Angers & Oniris Nantes affiliated lab.
Jerome Guicheux is more than delighted to serve RMeS as a director for these 5 additional years with Catherine Le Visage and Valerie Geoffroy as deputy-directors and Pierre Weiss and Frederic Blanchard as heads of our two research teams REGOS and REJOINT, respectively.
This renewal is the result of a huge collective effort.
A fantastic team of talented people with strong commitment to translating new therapeutic concepts from the bench to the bedside of patients with skeletal diseases.
Announcements
New funding by FRM for DISCAFF project
The STEP team is pleased to announce the funding of the DISCAFF project in response to the 2021 call for proposals "Reparative medicine" from the French Medical Research Foundation (FRM). DISCAFF is a collaborative research project that will be coordinated by Jerome Guicheux and Catherine Le Visage (INSERM UMRS 1229-RMeS). DISCAFF will aim to develop new bio-inspired materials for intervertebral disc repair in partnership with the CNRS UMR 5247 laboratory (Montpellier, X. Garric) and the Institute of Orthopaedic Research and Biomechanics (Ulm, Germany, H-J Wilke). DISCAFF will be supported by the FRM for 3 years.
New funding by ANR for PARKA
The STEP team is pleased to announce the recent funding of the PARKA proposal as an ANR collaborative research project. PARKA will be coordinated by Laurent Beck (RMeS), with Marie-Hélène Lafage-Proust (Sainbiose Inserm UMR1059, St Etienne), David Magne (ICBMS CNRS 5246, Lyon) and Denis Fouque (Carmen Inserm UMR1060, Lyon) as partners. The aim is to decipher the mechanism of action of phosphate in the development of vascular calcification in the context of chronic kidney disease, with the ultimate goal to identify putative therapeutic targets able to counteract its deleterious effects in humans. To this end, our consortium proposes an integrated approach encompassing the entire spectrum of phosphate regulation (from its intestinal absorption to its local vascular effects and systemic role) and the transfer of our findings in mice to humans.
New funding by ANR for IDEAL-3D
The REGOS team of the Inserm U1229-RMeS laboratory is pleased to announce the recent funding of the IDEAL-3D proposal as an ANR collaborative research project. IDEAL-3D will be coordinated by Sylvain Catros (BIOTIS, Bordeaux) with Alexandra Cloitre and Philippe Lesclous (RMeS), with Lise Chagot (BIOTIS, Bordeaux), with Makoto Miyara (CIMI, Paris) and Nicolas Courtois (ANTHOGYR, Sallanches). The aim of this project is to fabricate and evaluate an in vitro 3D model representative of the processes of osseointegration and soft tissue integration of dental implants, using Bioprinting techniques, in order to serve as a reliable and reproducible platform for research in implant dentistry.
New funding by ANR for CREABONE
The REGOS team of the Inserm U1229-RMeS laboratory is pleased to announce the funding of the CREABONE proposal as an ANR collaborative research project. CREABONE will be coordinated by Federico Perche and Chantal Pichon (UPR 4301 CNRS, CBM, Orléans) with Pierre Weiss and Valérie Geoffroy (RMeS) and Delphine Logeart-Avramoglou (B3OA - CNRS UMR705, Inserm U1271). The CREABONE project proposes to deliver messenger RNA (mRNA) coding BMPs (Bone morphogenetic proteins) as an innovative alternative to protein therapy or gene therapy for bone tissue regeneration (mRNA therapeutics delivery). The overall objective of the project is to formulate mRNA-lipid vector-hydrogel composite matrices (CreaBone) allowing a safe, local and transient expression of BMP dimers by host progenitor cells and to validate their therapeutic efficacy for bone regeneration.
New funding by ANR for IMAGIN
Scientists from the REGOS Team, based at the University of Angers, are pleased to announce the recent funding of the IMAGIN proposal as an ANR collaborative research. This project is based on the work of the group of Prof C. Ruckebusch (University of Lille) on chemical unmixing of spectral images combined to sparse sampling approach developed in the group of Prof N. Dobigeon (University of Toulouse). A new approach of sparse sampling, based on machine learning in chemical imaging, will be developed by Prof. D. Rousseau (University of Angers). Scientists from RMeS will be involved in developing a model of bone pathology with alteration of the chemical signature of bone. If successful, this approach should pave the way for the investigation of bone material properties in situ without accessing bone biopsies but also in a rapid acquisition that could be translated to clinical practice.
Publications
Shoulder Isokinetic Strength Deficit in Patients with Neurogenic Thoracic Outlet Syndrome
P. Daley, G. Pomares, P. Menu, G. Gadbled, M. Dauty, A. Fouasson-Chailloux
Life (Basel). 2021 ;11(8):798. - Download full text
Correlation between magnetic resonance, X-ray imaging alterations and histological changes in an ovine model of age-related disc degeneration
N. Bouhsina, C. Decante, J-B. Hardel, S. Madec, J. Abadie, A Hamel, C. Le Visage, J. Lesoeur, J. Guicheux, J. Clouet, M. Fusellier
Eur Cell Mater . 2021 - Download full text
New members
Lily Paillat
Lily, who defended her PhD in July, returns as an engineer in the unit. She will be conducting cytotoxicity studies on CaP particles doped or not with Galium and cellular behaviour on and in hydrogel/CaP composites as part of the ImplantNano program.
She will join our unit in October 2021.
Her supervisor will be Pierre Weiss.
Maylis Giraudeau
Maylis Giraudeau is an engineer, she will be responsible for making mechanical characterizations of 3D materials and constructions, as part of the development of organo-mineral bio-ink for 3D printing.
She joined our unit on September 27, 2021.
Her supervisors is Pierre Weiss.
Aslihan Argun
Aslihan is a postdoc in Le Mans (supervised by E. NICOL) and she will develop an original transversal platform to promote angiogenesis and neovascularization by coculturing different type of cells in separated phases of biphasic hydrogels.
She will join our unit on October 1, 2021.
Her supervisors are Pierre Weiss & Pierre Guihard.
Marie Guicheteau
Marie is a PhD student. She will evaluate the hypothesis that the SLC20A2/PiT2 protein can control variations in the volume of adipose and bone tissues and be involved in the deregulation of energy metabolism in pathology.
She joined our unit on September 1st 2021
Her supervisors are Sarah Beck-Cormier and Laurent Beck
Lucie Danet
Lucie is M2 student. She will work on the role of the anti-aging protein α-Klotho.
She joined our unit on September 1, 2021.
Her supervisor is Claire Vinatier.
RMeS in the spotlight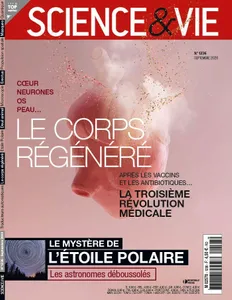 Régénérer le squelette : un biocomposite répare les pertes osseuses
Interview of P. Weiss
Sciences et Vie
Les cellules souches porteuses d'espoir dans les lésions dégénératives
Interview of J. Guicheux
Le Quotidien du Médecin Mai 2020
And among other things...
JFBTM 2022
Les 22èmes JFBTM auront lieu du 27 au 29 Avril 2022 - Hôtel Ermitage de La Baule
JSU 2022
Le laboratoire RMeS organisera un colloque sur le thème "Spotlight on Stem Cells" durant les JSU 2022, qui auront le le 3 Juin 2022.
Mis à jour le 08 January 2022 par Catherine LEVISAGE.