UMR_S 1229 Regenerative Medicine and Skeleton
Address :

Faculté d'Odontologie 1 place Alexis Ricordeau
44000 NANTES

Phone :

0240412916

Email :

On the Internet :

Additional contact details

Authority :

UNIVERSITE DE NANTES / INSERM / ONIRIS

Affiliated institutions :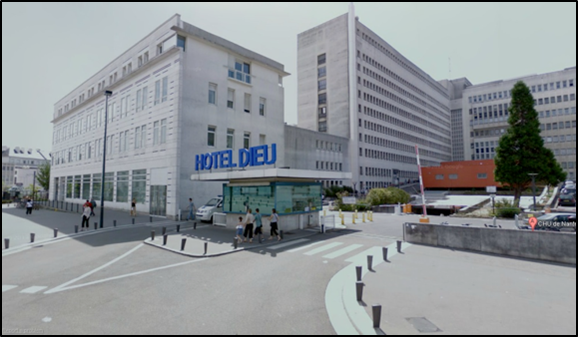 Organization
Director(s)
Staff
Le laboratoire RMeS - "Regenerative Medicine and skeleton Research" - s'intéresse à la physiopathologie du squelette et développe des approches multidisciplinaires visant à régénérer les tissus squelettiques, en relevant des défis fondamentaux et cliniques. Notre objectif thérapeutique s'inscrit dans le cadre du vieillissement des populations et vise à promouvoir le progrès médical pour tous.
Ce laboratoire d'environ 90 personnes pour 55 ETP, est composé de deux équipes : STEP (J. Guicheux) et REGOS (P. Weiss).
Activities
Research areas
Unknown label, Unknown label
Research topics
L'équipe STEP ("Skeletal Physiopathology & Joint Renegerative Medicine") est dédiée à la physiologie intégrée et au vieillissement du squelette depuis leurs aspects très fondamentaux (phosphate et homéostasie, minéralisation, sénescence, autophagie..) jusqu'à des aspects plus appliqués (arthrose, calcification ectopique..). Cette équipe étudie également les processus fondamentaux de la différenciation des cellules souches au cours du développement des tissus cartilagineux et notamment du disque intervertébral. Cette équipe aura également en charge le développement d'hydrogels bio-inspirés et de protocole permettant d'exploiter les propriétés des cellules souches mésenchymateuses et pluripotentes pour la médecine régénératrice des cartilages (arthrose, dégénérescence discale).
L'équipe ReGos ("Regenerative medicine of bone tissues") a en charge l'étude des aspects fondamentaux de la biologie et physiopathologie osseuse (ostéoformation, résorption, inflammation régulation génique..) mais aussi le développement et l'utilisation de biomatériaux hybrides pour la médecine régénératrice osseuse en chirurgie ORL, maxillo-faciale et orthopédique.
Ces équipes fonctionnelles s'appuieront sur les 5 plateaux techniques (PT) et plateformes (PF) communs du laboratoire: PT physicochimie, PT biologie cellulaire, PT biologie moléculaire, PF Histologie et de microscopie et microcaractérisation, PF de transfert préclinique et clinique.
Au sein de chaque équipe, un continuum depuis la recherche fondamentale jusqu'à la clinique sera assuré par la présence de chercheurs biologistes et chimistes et de cliniciens vétérinaires ou humains des services de rhumatologie, orthopédie, ORL, maxillo-faciale, neurochirurgie, odontologie et pharmacie.
Notre volonté est de bâtir un laboratoire intégré et interdisciplinaire dédié au vieillissement et à l'ingénierie tissulaire du squelette qui a vocation à devenir un centre d'excellence européen en médecine régénératrice.
Publications
Khoshniat S, Bourgine A, Julien M, Petit M, Pilet P, Rouillon T, Masson M, Gatius M, Weiss P, Guicheux J and Beck L. Phosphate-Dependent Stimulation of MGP and OPN Expression in Osteoblasts via the ERK1/2 Pathway Is Modulated by Calcium. Bone, 2011, 48: 894–902
Daculsi G, Goyenvalle E, Cognet R, Aguado E and Suokas EO. Osteoconductive Properties of poly(96L/4D-Lactide)/beta-Tricalcium Phosphate in Long Term Animal Model. Biomaterials, 2011, 32: 3166–77 D
Rederstorff E, Weiss P, Sourice S, Pilet P, Xie F, Sinquin C, Colliec-Jouault S, Guicheux J and Laib S. An in Vitro Study of Two GAG-like Marine Polysaccharides Incorporated into Injectable Hydrogels for Bone and Cartilage Tissue Engineering. Acta Biomater., 2011, 7: 2119–30
Merceron C, Portron S, Vignes-Colombeix C, Rederstorff E, Masson M, Lesoeur J, Sourice S, Sinquin C, Colliec-Jouault S, Weiss P, Vinatier C and Guicheux J. Pharmacological Modulation of Human Mesenchymal Stem Cell Chondrogenesis by a Chemically Oversulfated Polysaccharide of Marine Origin: Potential Application to Cartilage Regenerative Medicine. Stem Cells, 2012, 30: 471–80
Corre P, Merceron C, Vignes C, Sourice S, Masson M, Durand N, Espitalier F, Pilet P, Cordonnier T, Mercier J, Remy S, Anegon I, Weiss P and Guicheux J. Determining a Clinically Relevant Strategy for Bone Tissue Engineering: An "All-in-One" Study in Nude Mice. PLoS One, 2013, 8: E81599
Academic programs
Nous participons à 8 masters et sommes responsables de 3 modules de masters. Le Président de l'université de Nantes et le doyen de l'UFR d'odontologie sont enseignants chercheurs dans notre unité. Nous participons également à des actions de formation au travers de structures
1) la SFR François Bonamy (UMS INSERM CNRS Université CHU, ex-IFR26) dont le directeur adjoint est chercheur dans notre unité
2) le réseau régional Recherche Formation Innovation (RFI) BIOREGATE dont le directeur est enseignant chercheur au LIOAD.
Par ailleurs, 16 thèses d'université sont en cours dans l'unité. 4-5 thèses d'université sont soutenues chaque année dans l'unité.
Mis à jour le 17 August 2017 par Valérie PECQUERET.